The Sirri Saqti Foundation aspires to be a place of catalytic ideas, purposeful actions and leveraged impact. We hope to walk in the footprints of people who blazed new paths, people who inspired our efforts and people who made a difference. We salute some of these icons here.
Mahatma Gandhi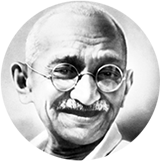 Mahatma Gandhi
Mahatma Gandhi has been an inspiration to the world and has also inspired the The Sirri Saqti Foundation. There are many things to be learnt from the Mahatma but the one thing that we are most inspired by is the vale of empathising with the underprivileged. In today's world where the difference between the rich and the poor is so much and the poor are left to fight for their own rights, hardly anybody has the time to listen and understand their problems. We at TSSF hope to be the comforting shoulder, the understanding brother, the true friend for these people as well.
Mother Teresa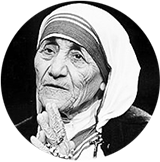 Mother Teresa
Mother Teresa, the Nobel Peace Prize Winner and a resident of Kolkata is a local inspiration for us. Mother Teresa taught us to see the inner good and humanity of people, no matter who they are and in what condition they are. She personified love for all and would take the most difficult cases with the belief that God has sent her here to help this person. Mother Teresa also believed in doing small things well and through that built up an organisation which continues her mission even after her. We at The Sirri Saqti Foundation also hope to build up an organization which will make us better citizens, better human beings and through us, make the world a better place.
Muhammad Yunus
Muhammad Yunus
A Bangladeshi banker, economist and Nobel Peace Prize recipient, he was a professor of economics where he developed the concepts of microcredit and microfinance. These loans are given to entrepreneurs too poor to qualify for traditional bank loans. In 2006 Yunus and Grameen Bank received the Nobel Peace Prize for their efforts through microcredit to create economic and social development from below. Muhammad Yunus was our inspiration for livelihoods enhancement model in The Sirri Saqti Foundation (TSSF).
Narayana Krishnan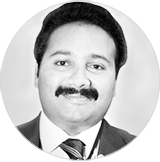 Narayana Krishnan
With a degree in hand and future in sight, Narayanan was on his way to be an award-winning chef at a 5-star restaurant in Switzerland. All it took to change his plans forever was a walk on the streets of his home town of Madurai, India. It was then that he was taken aback by an elderly man lying on the side of the road. This man was starving and filthy. Narayanan reached out to this old man who placed his frail, wrinkled dirty hand upon his. This was a defining moment. Narayanan decided in this moment that helping this man and those in need would be a life well-lived, providing him the happiness and fulfillment he had yet to experience until this moment. Narayana Krishnan has also received a CNN IBN impact Hero in the year 2010. We at The Sirri Saqti Foundation (TSSF) applaud the Services of Narayan Krishnan as a social changer as well as an Inspiration to people like us.